Oust-A-Mouse® is a lockable bait house
Oust-A-Mouse® is not a mouse trap. Instead, it's a durable, weatherproof, tamper-resistant bait house designed to be secured outside to pull mice from indoors and prevent future mice from entering buildings. Its lockable lid prevents children, pets and other wildlife from
accessing the bait.  It provides a permanent, preventative and responsible solution for mice control and has proven successful in various applications from cottages, homes, garages, farms, RVs and boathouses.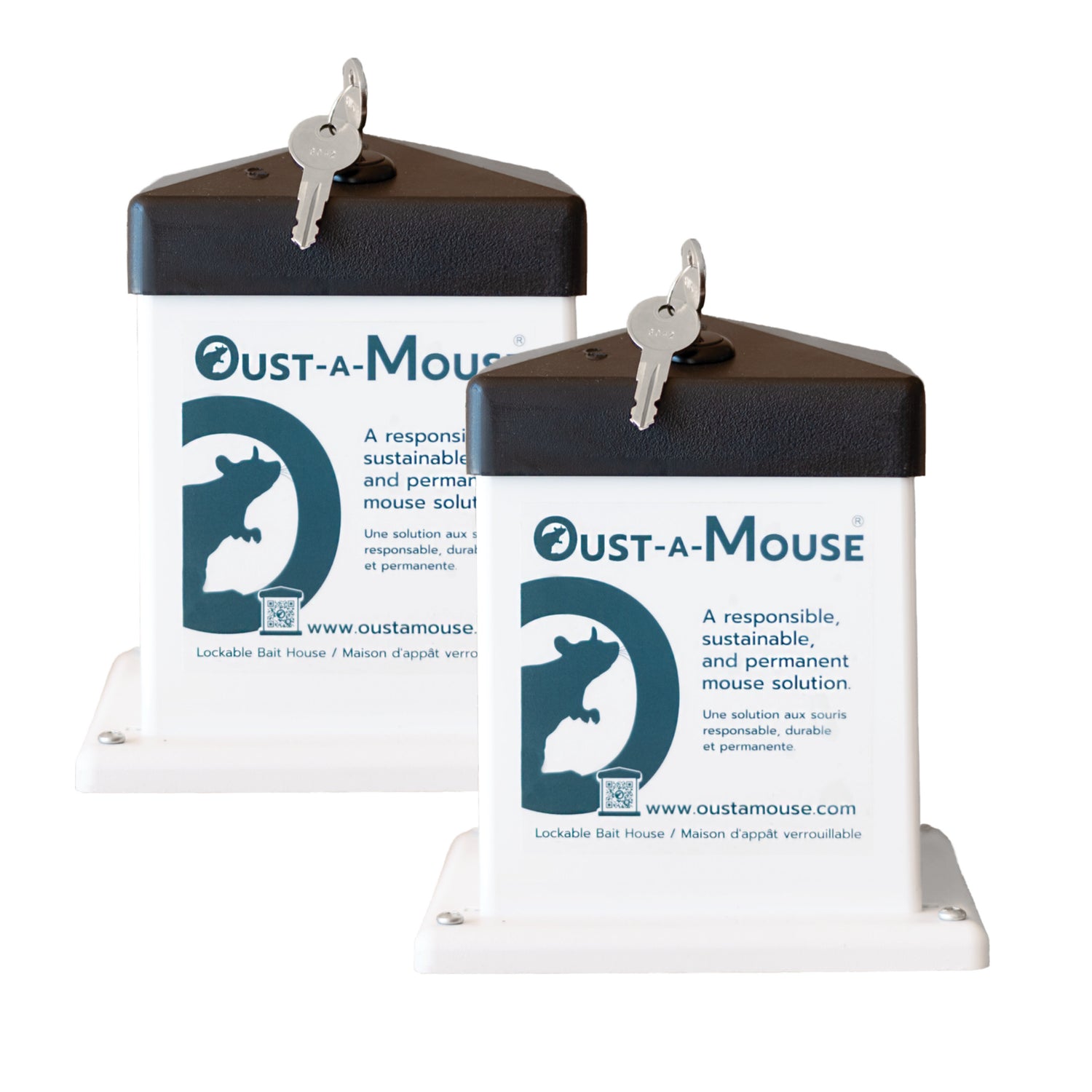 It is the most sensible mouse control solution
The bait station's pass-through design allows mice to enter, eat and leave. Once the mice have eaten the bait, they go off to find water, burrow and disappear, leaving no mice to clean up. This elimination process is kept outside from start to finish, making it the most sensible mouse control solution, lasting many years.
LEARN MORE
SAY GOODBYE TO MOUSETRAPS AND HELLO TO A PERMANENT SOLUTION
LONG-TERM SOLUTION

If bait levels are maintained, Oust-A-Mouse® will keep you mouse-free for many years.
SAFETY IS #1

The tamper-resistant design with a small access hole and locking lid makes the bait station resistant to entry by pets, other wildlife and children.
CUSTOMER SATISFACTION

The Oust-A-Mouse® will eliminate all existing mice infestations and boasts 100% customer satisfaction.
NO CLEAN UP NECESSARY

Once the mice have eaten the bait, they leave the bait house searching for water, where they will go off to sleep somewhere else entirely, leaving no clean up for you to deal with.
PREVENTATIVE

Oust-A-Mouse® is designed to be used outdoors, pulling mice out of your house and preventing future mice from entering.
Places to Use Your Oust-A-Mouse®
Home

Cottage

RV

Outbuilding

Boat Storage
Rodent Control Testimonials